Marina Matiss's journey from  Belarus, now living in Barcelona, and an assortment of world travels has brought her to this point. She speaks 7 languages and her music tells stories that will connect with all listeners alike.  She has just been recently nominated for National literature price "Poet of the year 2021" in Russia for the poems she writes which also coincides with an autobiographical novel "Zero gravity" that was published in Russian.
Her single Phoboslight talks about a girl who is ready to give her life for the possibility to contribute to a bigger idea, it's her free choice and she wants to do it. The single is likely to stand forever as a key turning point in the singer/songwriter's life thanks to the resounding way it announces her arrival to the music world.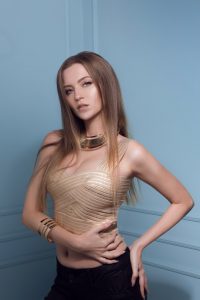 The Choice says the same thing – "and whatever it brings, I'm ready for this".. "the river that flows in was about to change its' course.."Her take on this style is more melodic on the single The Choice and even has something of an orchestrated quality, but it bubbles with a modern sheen thanks to its music leanings. Marina Matiss is a pop performer with substance who's worth watching and hearing whenever you can.
More than Heaven that somehow picture a devil that is trying to seduce you. She combines traditional sounds with the music in dramatic, ear-catching ways. The production style brings the song's synths into total sympathy with the piano playing opening the song and likewise threading its way through the track.
Lovebugs is about living in a no strings attached and I'm free vibe. The song often has a rousing, intensely emotional bent and the musical peaks that come along the way are perfectly built up to and integrate the various elements at her disposal in a seamless, highly musical way. Marina obviously arrived early at a vision for this song – it has an ideal running time and manages to pack a world of musical experiences into its relatively brief duration without ever sounding rushed or cluttered.
EL Perdon is about liberating herself from a heavy mental dependency on abusive relationships. Her vocals are adept for facing down any challenge that comes along. She really makes great drama out of the song's lightly ironic twist and brings an appealing combination of grit and melodicism to play delivering the song's lyrics. Much like the arrangement, Marina's lyrics never waste a word or any of the listener's time and hit upon an accessible, conversational tone without ever dumbing down the adult subject matter.
The possible breadth of this song's appeal is immense. Listeners old and young alike will find some basis to relate to Marina's lyrics or else understand the enormity of the experience. One does not write songs about buying groceries – these are works of art in miniature and aim to depict impactful events and feelings in our lives.
Marina does that with relaxed, confident ease. There's little doubt that this is a singer and songwriter with the desire to make music her life and career; many do, but not everyone has the talent and intangibles in enough supply to make it work. Marina Matiss is working at a higher level than many of her contemporaries and this release makes that observation undeniable.
Follow, Watch & Listen to Marina Matiss via the links below;
Click here to listen to El perdon
Click here to watch the phoboslight video
Click here for Marina's spotify
Click here to follow Marina on instagram